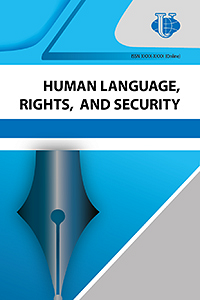 Human Language, Rights, and Security
Editor-in-Chief: Vladimir V. Filippov, Dr.Sc. in Physics and Mathematics, Full Professor, RUDN University, Higher Attestation Commission under the Ministry of Science and Higher Education of the Russian Federation, Moscow, Russian Federation
ISSN: 2713-0614 (Online)
Founded in 2021. Publication frequency: 2 issues per year
PUBLISHER: Peoples' Friendship University of Russia named after Patrice Lumumba (RUDN University)
Open Access: Open Access
. APC: no article processing charge
Peer-Review: double blind. Publication language: English
The journal 'Human Language, Rights, and Security' is a interdisciplinary journal that publishes national, regional and international research results with the aim of providing broad coverage of language issues in ensuring human rights, promoting sustainable development and social support for contemporary society. The journal provides an original, contemporary and authoritative vision of current trends that have a profound impact on research as well as on the academic community and practitioners. The issues examined in the journal may also be of great interest to the general public.
The journal accepts for consideration original research articles and scientific reviews, and also publishes reviews of monographs devoted to the stated problems.
Announcements
No announcements have been published.
Current Issue
Vol 1, No 1 (2021)